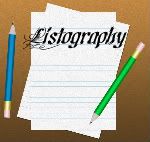 "/>
I cannot bring myself to use words for most of these as I am 37 and surely should be past this list by now! Needless to say some of these would seriously not have to speak!
For the reason for this post read
here
- Her laminated list is sooo much cooler than mine!
1.
2.
3.
4.
5.