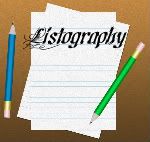 "/>
Week 2 of Listography for me and one that is slightly harder than last week - 5 things that I would like people to say about me at my funeral. I cannot decide whether these are serious or not but these are the first things that sprung to mind...
1. 'I told you she was ill'
2. 'I've never seen so many people at a funeral, she must have been a celeb.'
3. 'What a slim coffin' ... a person can always dream!
4. 'She was the best cake maker ever'
5. 'She organised the world's best wake before she went'
God knows where Kate gets her ideas from for these Lists but they are great fun - why not join in?